It's BBC dad redux yet again and even after the kids' gate-crashing fiasco, anchors haven't learned a lesson about keeping kids at bay during a news segment. 
In yet another hilarious live TV disaster, an MSNBC news anchor's son is seen sauntering into her frame and grabbing her attention during a live bulletin about Syria.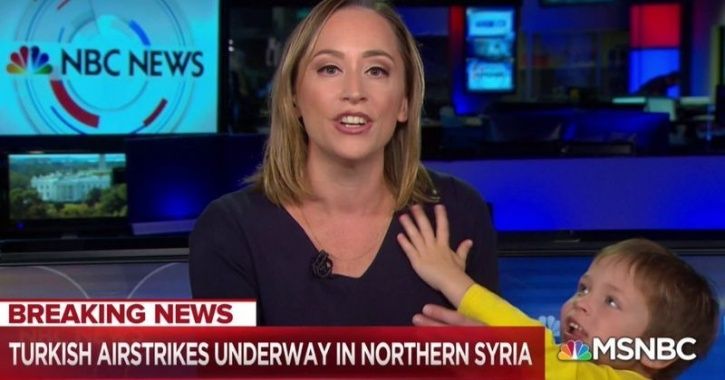 Twitter
According to reports, the correspondent named Courtney Kube was explaining the crisis in Syria when her young son walked in to interrupt her on live television
The hilariously relatable incident has since gone viral and people are in splits. 
"Excuse me, my kids are here — live television!" Kube says in the clip as her young son walks up to her as she is discussing Turkey's escalating military operations in Syria.
Kube later shared with Today what was going through her head when she realised her son was right behind her.
Today quoted her as saying, "As soon as I realized he was standing next to me, for a second your heart kind of stops. I almost picked him up and put him on my lap, but I was afraid he would lean back against mic."
"I was so glad he didn't start crying. He was smiling and happy. It could've been worse!"
Ryan and his twin brother, Jackson, were with Kube at NBC's Washington bureau before being dropped off at school, states reports. 
Kube's moment with her son was a redux of Robert Kelly, the professor who became known as BBC Dad in 2017 when his two young children barged into his Skype interview for a news segment. 
Kids do the darndest things!